---
Paula's Sitka, Alaska Residency
The objective of The Honor Path was to bring people together and facilitate understanding, healing and a
new appreciation for our diversity. This project took place in Sitka, a town of 8900 on a remote island in Alaska. It was an extremely successful experience. The town is definitely "abuzz" with teachings and inspired moments provided by Paula Larke.
The biggest challenge was protecting Paula from the throngs of people that wanted to spend time with her. She has an incredible magnetism and intuition. Her presence stirs people intimately and her care instantly impacts those around her. She performed seven shows in the public schools in town. Many people stopped me on the street to let me know their child learned a lot from Paula and they were grateful for her time here. Many students began research on the civil rights movement directly after her show.
Five teachers called to tell me that the rest of their class time was spent talking about what Paula had taught. One woman left a message on my home machine to tell me that her adolescent boy (who never tells Mom what happens in school) came home and told her about this really cool woman who "tells it like it is" and taught him a lot about bullying.
After her standing ovation on the final concert night, many people stayed after to talk to each other and Paula in the native community house. Some of the native elders shared that they had never seen that many native people come out for a concert. She reminded the crowd of the indigenous people's customs and the power that they hold by beginning the night with a humble entrance on the drum and receiving a native Tlingit welcome ceremony from the stage. The integration was powerful and we all left feeling much more bonded. She brought people together in a magical way. Her time with the elderly at the Pioneer Home brought joy, smiles, laughter, song, and dancing to the staff and residents.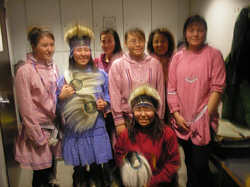 She invited two "homeschooled" boys to play piano and drums with her. The integration of age, culture and ethnicity was brilliant. She spoke to the Gajaan Heen dancers and encouraged great pride in their Tlingit culture. The elders thanked her for reminding them of their ancestors and the strength of their roots. She impacted a wide diversity of people and brought them all together on her final night.
Financially, Paula's concert raised $2330 for the Sitkans Against Family Violence shelter. Artistically, her top quality talent was a true gift to this rugged town. More than that, her humility and love poured upon everyone she met. The morning she left even the hotel staff was very sad to see her leave and they thanked me for having her stay with them. A fisherman came to the airport at 5 in the morning to bring her a bag of his smoked salmon. There is already a group of social services trying to figure out how to get Paula back up here. She brought out the best in everyone and built safe bridges between people that will surely continue to flourish and thrive.
Thank you.
Cindy Edwards
Counselor/Community Liasion
Participant Quotations
"I went to the concert feeling tired & empty. She was the healing food that I needed" - Radio Host

"She taught us stuff without lecturing us. I liked how she wasn't afraid of bullies." - 6th Grade Student

"I wasn't going to the concert because I was so depressed Saturday night, but something made me go. I left so happy and woke up the next day feeling great." - Native Elder

"Paula Larke was the best concert I've ever been to." - Adult Sitkan

"I've never seen that many native people at a concert. Performers try to bring folks together, but she's the best". - Local Fishermen
Casey,

I thought Paula's assembly was wonderful. She had the kids eating out of her hand. Even though I was concerned because I was missing part of my science class with my B 1/2 class, as the assembly, went on, I wanted it to last longer! I felt like it ended too abruptly and we should have been able to give her an ovation and had her sing at least one more song. So much of what she did was very appropriate for this age group and she has a way of making everyone feel included.


Paula receiving "Honorary PHD" from
students at Pacific High School
There was a lot of history in what she did and a lot of encouragement to do the right thing that got through to our kids. I thought she loved kids and it came through to them and they felt like she was a wise woman that they needed to listen to and at the same time a cool person that they could "get down" with. Her reference about bullies was a great enforcer to what we did with the beginning of school. There weren't a lot of students who raised their hand I think because we have put the bullies on notice. And her having the kids point them out was good in my opinion along with her comments about how they were cowards. Her comments helped the bullies and it helped those suffering from the bullies!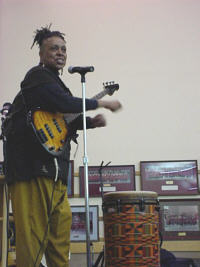 She was so good that I made a special trip off Galankin on Saturday to see her performance for the SAFV people. She was dynamic. She had the whole place singing and moving and feeling good about being who they were. I think I went to a performance once with Don McClean back in the early 70's where I connected with a performer like that, but not anyone since then. She came in the building and asked for permission to enter from the Kiks.adi and it was very powerful. She is a powerful lady and it was all good in my opinion. I bought one of her CDs so that I could play the "Take Time" song when I need it!
:-) Thanks for asking,
Patty

---