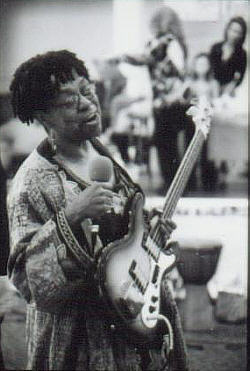 Paula Larke
Considerations for Booking
Event design and planning time.
Travel and coordination of equipment needed.
Length, venue, and number of actual presentations.
Artist's per diem or availability of appropriate meals.
Appropriate lodging.
Accompanist's fee, including transportation, meals and lodging. (if accompanist is required by format of event)
Paula Larke has been called "absolutely miraculous... a group leader / motivator / spirit-uplifter / singer / storyteller / artist extraordinaire...." (Leadership America) She tells personal tales of celebration and loss, seasoning them with music on bass, djembe, guitar, and banjo. Larke performs art for social change with humor, lyrical percussion, traditional wit and wisdom, and contemporary irreverence.

Conferences and Workshops have included, The Kellogg Foundation's MIRA Project, The Mary Reynolds Babcock Foundation's Annual Gathering, The Bell Foundation's After School Program, The United Methodists Women's National Seminars, Carpetbag Theatre's Summer Institute for Adult Learners, The North Carolina Teaching Fellows Annual Conferences, and Leadership America's National Seminars.
Concerts Venues have included, William Patterson University in NJ, Riverside Church in NY, Guilford College in NC, Broadway Presbyterian Church in NY, Florida Southern College in FL, Kennedy Center in DC, and numerous music festivals throughout the Southeast and California.
Educational activities have included "Page to Stage," a literacy exercise taking text from literature and staging it for classroom performance; "Creative Writing for Performance," which includes an oral history collecting workshop; "Blendz," a guided improvisational session for serious musicians.
Presentations have included "Palaver" a humorous musical discourse on human nature; "Voices in the Treetops" real life stories of Gulf Coast region Native and African American history and culture; and "Stories from the Road Less Traveled" tales of survival, ingenuity and compassion.
Fees are based on the number of days required to prepare and execute each event. Length of presentations range from one single engagement to six-week residencies, either exclusively in-house or with selected community outreach.
For Booking or Program Design and Development inquiries, Contact: Paula Larke
Telephone: (404) 492-1946
or e-mail bookings@paulalarke.com
More program descriptions at:
www.voicesinthetreetops.org