2006 National United Methodist Women's Assembly
Paula Larke lead a focus group on "Hip-Hop and the Gospel" at the Anaheim, California conference in May 2006. This year's theme was "Rise, Shine, Glorify God!". Below is a quote from a teen participant:

"It's very rare for a teenager to sneak into a class. But after I heard the 'musical styling' of singer-songwriter Paula Larke through the walls of the Anaheim Convention Center during the 2006 United Methodist Women's Assembly, I knew I had to be part of the loop."
Quote by Deanna R. Stovall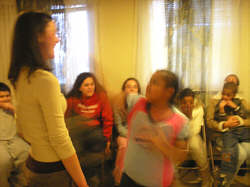 Lafayette College Residency
Student mentor resists distraction as she tells a
story in Larke's theatre workshop for mentors
and their charges.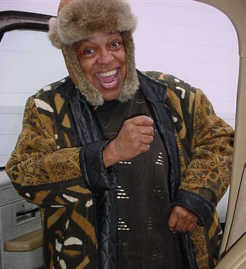 Paula Larke in Sitka, Alaska!
In March, 2006, Paula went to Sitka, Alaska for a fourteen-day residency with the Combined Agencies/ Community of Sitka. This included consulting, performances, and/or workshops with Sitka Public Schools, Mt. Edgecumbe High School, Sitka Tribe of Alaska, the Family Justice Center, and the Tribal Community Center, Sheet Ka Kwan 'na Kahidi.
Go here for details on the residency

Can you say, "It's cold up here"?


September Concert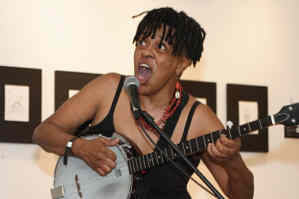 Paula Larke with percussionist Kim Nimoy, violinist Elektra Kurtis and others at Ft. Tryon Park, Sept. 11, 2005 from 12 to 3PM. Concert was at Broadway and 191st St. on the terrace of the park overlooking the Hudson River. Learn about, join the September Concert tradition! www.septemberconcert.org
Fort Tryon Park
190th Street, Washington Heights
New York, NEW YORK 10040
Black Belt Roots Festival
Eutaw Society of Folk Arts and Culture
P.O. Box 566
Eutaw AL 35462
(205)372-0525
Greene County Courthouse Square, Eutaw, AL. Last weekend in August

Paula workin' her magic with the crowd
Paula Larke performed her Alabama family history in song, poetry, and story for celebrants at the tribute for Black Belt folk artists August 25. Motivational performances -"Hard-Knock Life Stories from the Roads Less Traveled" for school students on Friday, Aug. 26, and "Celebrate the Possible" on the Courthouse Square Main stage of the Festival Saturday, Aug. 27. She visited an area church on Sunday, Aug. 28th.

While in Greene, County, Paula visited community members in their homes as well as those in institutions, sharing songs and stories of faith, courage and wisdom across the spiritual "Welcome Table" .
Juneteenth Celebration

Saturday, June 18, 4-7pm
9 Gammon Ave. SW
Atlanta, GA
(off University Ave., behind Carver HS)

cultural artists, food, music, fun

Sponsored by Project South and Alternate Roots

For more information,
call 404.622.0602

The Cafe MAAFA
June 28-30, 2005
Harrisburg, PA
Paula Larke will be featured performer as part of Harambee United Church of Christ's traditional tribute to our African and African American ancestral history, "THE MAAFA", now in its third year of presentation by the congregation of Harambee UCC in Harrisburg, PA. The MAAFA is a week-long series of events, beginning with a two-day pageant chronicling two hundred years of African American history at The Forum Place in downtown Harrisburg. The observance continues with special keynote speakers and culminates in a three day celebration of local talent featuring the return engagement of Ms. Larke's "serious fun" music and message. This new addition to the tradition is called "Cafe MAAFA", and was held each night on June 28, 29, and 30, 2005 at the church.

The Power of Arts in Education
May 28, 2005
Durham, NC
"The Power of Arts in Education" was held May 28, 2005 at Hayti Heritage Center in Durham, NC. It was planned as a sharing event for artists and educators from across the South and a celebration of their work to promote and use the arts in schools and community settings. The purpose and intent was to promote the value and benefit of the arts in education including Special Education with special focus on examining methods for using the arts as tools and strategies for teaching and learning.
Evening *Performers and exhibit presenters: Paula Larke (NYC, formerly of Durham), M.U.G.A.B.E.E. (Jackson, MS), Fruit of Labor Singers (Raleigh, NC), Marquez Rhyne (Carpetbag Theater, Knoxville, TN), Hollis Watkins (Jackson, MS), Carolyn Morris (Atlanta, GA), local artists, and more.
For more programming information

Voices in the Treetops, Inc.
applies the arts to the delicate and crucial task of fostering creative, ethical collaboration and partnerships for greater community wellness. Through the arts, we design and/or support programs for children, teens, and adults which lend themselves to constructive dialogue and equitably advantageous collaboration between community service agencies, artists, individual community advocates, health professionals and educators.

go to: www.voicesinthetreetops.org/